About 3 hour drive from Hoi An to the North, Hue is well-known for royal palaces, tombs and hundreds of ancient Buddhist temples. This poetic city attracts visitors with thrilling stories about Emperors and Queens, as well as historical lessons associated with the ups and downs of Vietnam during 1802-1945. But today, in this post, passing over all the imperial and historical stuff, Angiee team would like to introduce to you guys the special cuisine of our so called "ancient capital", by presenting to you an extremely unique "Chè", which beats all of the Vietnamese fundamental concepts about "Chè". That "one of a kind" Chè is called "Chè bột lọc heo quay", aka "Tapioca filled with roasted pork sweet soup".
(you can check the previous post to know about "chè")
A dish causing "confusion"
Not just foreigners but Vietnamese feel shocked and "slightly bellyache" when they first heard about this Chè. Regardless of its name, the main ingredients for this Hue's dessert are tapioca (bột lọc) and roasted pork (heo quay).
Roasted pork, which is made from pork belly, is cut into small cubes (must have enough meat, fat and skin) and shimmered with sesame and peanut oil in low heat to burst fragrance, next skillfully wrapped in a thin tapioca layer.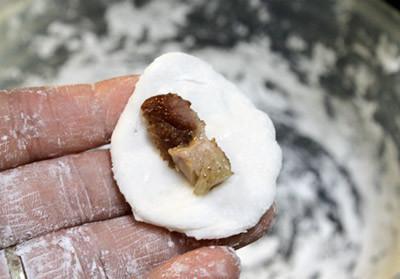 The cook hard-boil the tapioca balls carefully, fish them out and soak them in mild sweet sugary soup made from rock candy added ginger and panda leaves. It is believed that this kind of "Chè", in the past, was just reserved for Emperors, Queens and high-ranking class in the Imperial city during rainy season, since it was a light dish but fully sweet and salty, as well as warm, rich in protein, which was very good at keeping warmth and provides high nutrients for the body.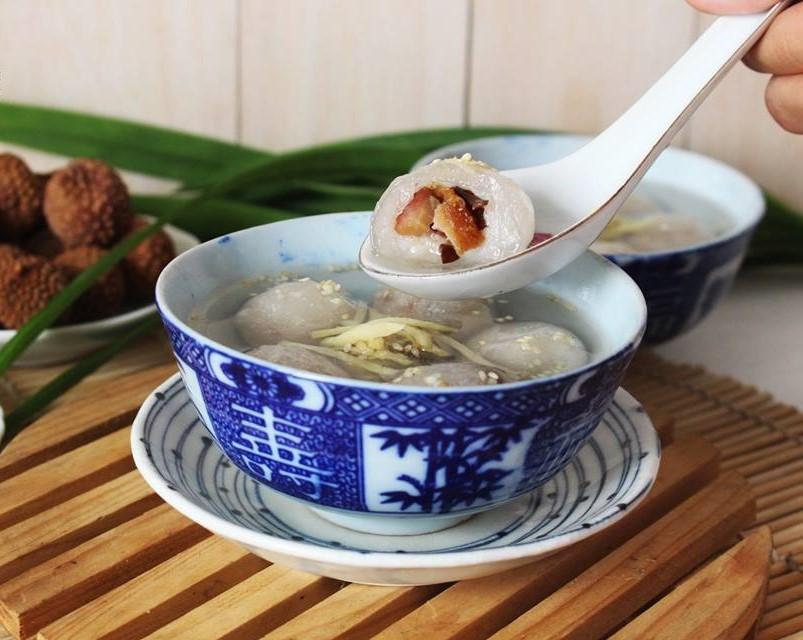 An "anti logical" dish or the wonderful harmony of contrary things
When it comes to "Chè", we often think straight a way of the specific sweetness and refreshment, no saltiness or fat. And usually, "Chè" is cooked by tubers (taroes, sweet potatoes), or nuts like lotus seeds, millet and beans like green beans, red beans,… almost vegetative ingredients. But there's something completely different here.
"Chè" goes with roasted pork – the salty, fatty meat that is only suitable for eating with rice, noodle or for enjoying with rice wine or beer. However, once you give it the first bite, the nutty flavor of sesame and savoriness of roasted meat mixed perfectly with the scented sweetness of warm syrup burst into your mouth and melt on your tip tongue.
At that time, who cares if it logical or wierd or not? We just remembered that what stuck in our mind when we tried it for the first time was "oh one cup is not enough for sure!" 😀
"Chè bột lọc heo quay"- past and present
In the old days, when "Chè bột lọc heo quay" was merely offered to the Kings, it must be served hot in elaborate small porcelain bowls, which highlighted the charm and fussiness of royal cuisine. Time flies, nowadays Vietnam has no Emperor any more, "Chè bột lọc heo quay" is becoming popularized as a dessert for ​​every family.
It used to be served hot only in winter, now is also sold in four seasons, served with ice cubes. In addition, small porcelain bowls are gradually replaced by glasses, plastic or paper cups according to market demand. In spite of that, we hold a strong belief that no matter the version, its name and taste are still so attractive, still making eaters curious, passionate, and still a pride of Vietnamese, and Hue people in particular.