It will be a mistake if you visit Danang without tasting this city's specialties. Let's check out this article to explore authentic local cuisine with Angiee Team! 
Mì Quảng (Quang Noodles)
If Hanoi is famous for Phở, Hue is widely – known for its "Bún Bò Huế",  Quang noodles is an icon in Hoi An, QUang Nam and Danang cuisine, and also one of worth- trying Vietnamese food when visiting the Central Land. The word "Mì" means thick and flat noodle and "Quảng" stands for Quang Nam province – homeland of this dish. ( Well, for anyone is getting confused, Danang used to be a part of Quang Nam in the past before it was separated in 1997, that's why Quang Noodles is popularly served in this city). Different from most normal noodle soups, Quang Noodles have just enough broth to barely cover the noodles. 
The broth is generally from pork bones and shrimp heads stewed in many hours, some regional and family recipes can also use chicken, beef or catfish to make it more flavourful. What makes Quang noodles unique is the richness of the broth, the blend of tender noodles and the freshness of veggies and herbs, with tasty meaty toppings, roasted peanuts and grilled rice papers in just one chew.  There are many types of "Mì Quảng", ranging from the basic ones such as pork, shrimp or chicken, to more "luxurious" like snakehead fish, eel, jellyfish or even frogs. You can easily find "Mì Quảng"  sellers in every street corner, and at any time, no matter breakfast, lunch or dinner.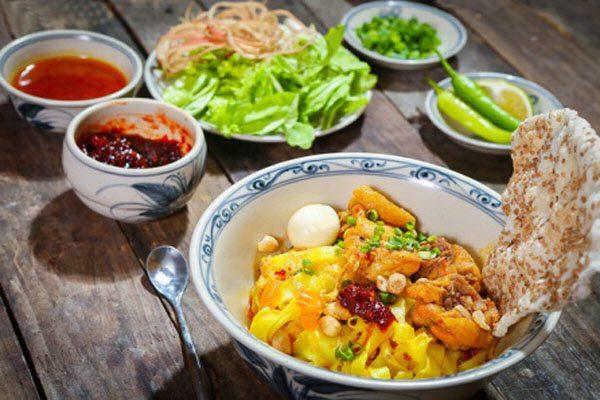 Some nice "Mì Quảng" eateries in Da Nang are:
Mì Quảng Thi, 251 Hoang Dieu St.
Mì Quảng Bà Vị, 166 Lê Đình Dương St
Mì Quảng Quê Xưa, 165 Núi Thành St 
Bánh Xèo (Fried Pancake)
No Vietnamese barely knew "bánh xèo", nor do Vietnamese have never enjoyed "bánh xèo" once in their lifetime.  "Bánh xèo" (literally "sizzling cake") is a Vietnamese savoury pancake made out of rice flour, water, turmeric powder, eggs, then pan fried and added with slivers of pork, shrimp, and bean sprouts on top.The word "xèo" depicts the sizzling sound when pouring the rice milk into the hot oil.
According to each region, "bánh xèo" itself has so many versions. Traditionally,it is served wrapped in fresh raw veggies and herbs, such as baby mustard greens, lettuces, mint, basil, fishy mints, ect,… and dipped in sweet and sour fish sauce. In the Central region, the pancake is dipped in a special one which consists of pork liver, peanuts and soybeans sauce ( In fact, the sauce is the key element which separates the good and not so good "bánh xèo"). Besides raw veggies, grilled beef and pork skewers are also served to be wrapped with it, which creates a greatly  unforgettable combination to eaters. 
In Danang, you can easily find "bánh xèo" in any local markets, but we recommend you to try this dish in a famous deep alley called "bánh xèo Bà Dưỡng", where own the best and secret dipping sauce recipe..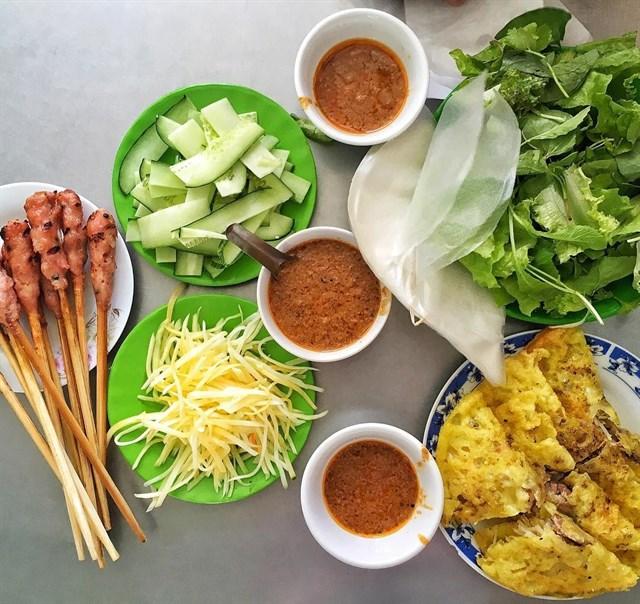 Bánh tráng cuốn thịt heo (Steamed Pork wrapped with rice paper and raw herbs)
All the main ingredients are revealed by the name itself: "Bánh tráng"- rice paper and "thịt heo"- steamed pork. In general, steamed pork are wrapped in rice paper, together with numerous kinds of fresh greens and then dipped in fish sauce. Simple. And easy.
However, what makes this such a simple and easy dish one of the most special and must-try dishes of Danang? The answer lies in 3 things: the pork, the fish sauce and the veggies.
The pork: "nice" pork slices (not too thick, not to thin) with fat at both ends.
The fish sauce aka "mắm nêm": a salty, funky fermented fish sauce made from anchovies, rich in protein and calcium, then mixed with sugar, chillies, garlics and pineapple. The thing is, its strong and smelly taste is a real challenge for anyone first try. But be careful, you can be easily addicted to it as well.
The veggies: also called "the greens feast" as including 10 kinds of super fresh veggies and herbs such as lettuces, perrillas, fishy mints, basils, corianders, bean sprouts, mangoes, cucumbers and the most important banana blossom.
There are many restaurants around Da Nang that offer this local specialty. Check out these eateries for your best serve:
Mậu 2 – 156 2/9 St.
TRAN II – 334 Hải Phòng St.
Bánh Tráng Thịt Heo Đại Lộc – 124 Huỳnh Thúc Kháng St.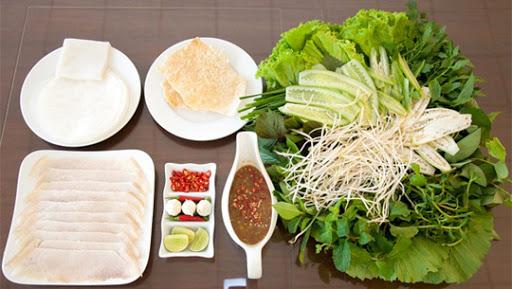 Bún mắm nêm (Noodles with fermented fish sauce)
This is another variation of fermented fish sauce. In this dish, it's not served as a dipping sauce but poured directly on a bowl of noodles which already had fresh veggies, papaya pickles, roasted peanuts and full toppings such as crispy roasted belly pork slices, pork pies and diced boiled jackfruits on it. Locals always add lot of chopped chillies and garlic in the sauce, make sure when you finish eating, your face turns reddish and can't stop sniffing.
Don't forget to ask the shop owners to give you mint candies or chewing gums, cause we assure that the funky smell of "mắm nêm" will make people run away from you.
Bún Mắm Bà Vân – K23/14 Trần Kế Xương St
Bún Mắm Bà Đông – 141 Huỳnh Thúc Kháng
Bún mắm Ngọc – 20 Đoàn Thị Điểm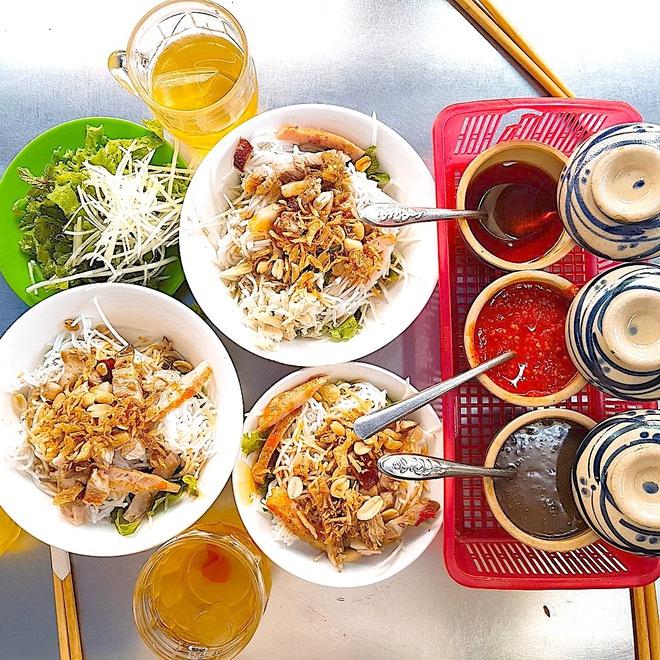 Bún Chả Cá (Fishball Noodles)
This is another "favorite of all time" breakfast pick of locals as it's tasty, nutritious and affordable. The main ingredients for this dish are "Chả cá"(Fish ball),  "Bún" (Noodles) and excellent broth from simmered fish bones, pumpkins, cabbages, bamboo shoots, pineapples and a "killer" shrimp paste, in which fish balls are the key. There are two types of fish ball: poached and deep fried. The best fish cakes relies on what kind of fish is used. Lizardfish, barracuda and mackerel are always the first choice of experienced cooks.
Firstly, fish after being taken out all bones is marinated with garlic, pepper and salt, then mixed with chopped pig skins. That mixture then will be hit nonstop for several times and formed into small round pieces to be fried.  Just one gulp, your tongue will definitely sense the sweetness of broth and  slightly strong flavour of shrimp paste, mingle with a tasty chewy fish ball, everything does create a combination which satisfies even the most demanding gourmets.
Don't forget to add some carrot and shallot pickles to make your fish ball noodle bowl more yummy. Here are some of favorite fish ball nooodles shops in town: 
Bún chả cá Hờn – 113/3 Nguyễn Chí Thanh St
Bún chả cá Ông Tạ – 109 Nguyễn Chí Thanh St
Bún chả cá bà Hoa – 27 Lê Hồng Phong St
Bún chả cá Hà – 102 Huỳnh Thúc Kháng St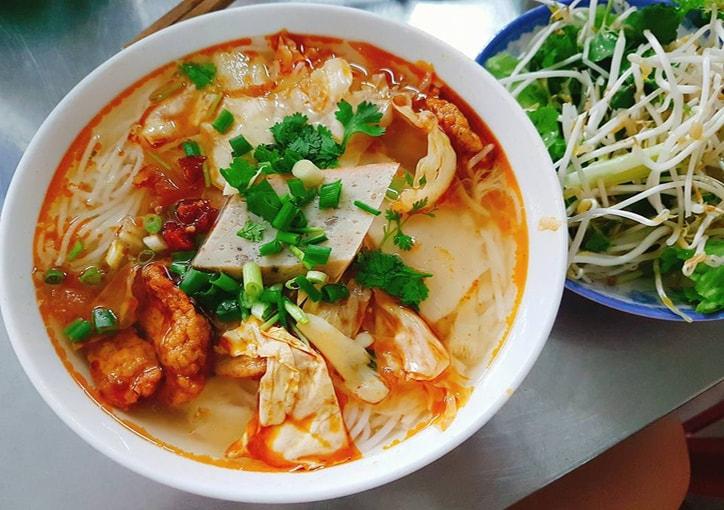 Seafood
Da Nang fortunately owns a very long coastal line and many beautiful beaches, giving people here abundant seafood resources. Traveling to Danang allows you to sample the most mouth-watering fresh seafood in such a reasonable price compare to other coastal cities. Several seafood restaurants that locals are frequently visited are:
Năm Đảnh Eatery- K139/H59/38 Trần Quang Khải St
Cua Biển Restaurant – Lô 10, Võ Nguyên Giáp St
Phước Thái Restaurant – 18 Hồ Nghinh St
You wanna eat like locals?  And also wish to pick up local background? Or you want to pack in everything as much as possible in an easy and laidback way? We're here for you! Let's take a deep dive into the food paradise with #Angie Adventure! We not only show you where best local food are but tell you how to eat it and the social-historical context of each dish. Check out our website and share your best experience in Vietnam with us!
*All photos used in this article are from the internet.